Valentine's Day isn't just about romantic love. It's also a time to appreciate ALL the love in your life.
A small gift, a hug or a handmade card are simple ways that we express our appreciation for the people that fill our hearts with joy.
As children, we wanted nothing more than to express our love to our friends and family, which is the same for children today. And, with it, comes great benefits. Participating in any kind of valentine's craft increases a child's creativity, motor skills, and can help them strengthen their reading, writing, spelling and comprehension skills.
Lena Sanchez, Direct Service Professional, shares both love and education with her clients while at the same time helping them express their love to their families. Lena and three of her clients have been making valentines for their parents. Lena chooses activities that she knows the kids can accomplish and feel good about. "If we need to take breaks, we do that and then go back to it later," she said. "It makes it so much more fun for them. I like to spend time with my kids doing things they enjoy that make them laugh."
Kenny made two valentine's cards. Kenny loves both of his moms and was very happy to make them something special just from him. Lena deliberately chose gluing because Kenny has a little trouble with painting and being messy. The gluing keeps his attention. He spent hours gluing things on the cards because he wanted them to be perfect. They spent an entire day on each valentine.
Amber and Lena spent one evening laughing and joking while Amber worked on her mom's valentines. Amber loves stickers and glitter and shiny sparkling things, and is very meticulous. She spent 4 hours putting the sparkle stickers on mom's valentine! "Art is Amber's favorite thing," said Lena. "She tells me she would rather do art than anything."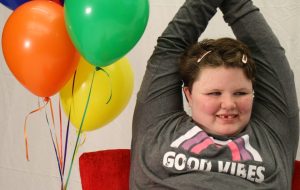 Skylar is in the process of making her valentines. Because Skylar sometimes has trouble staying on task, Lena divides activities into 5 minutes at a time. "We choose to do 5 minutes at a time and if we're going to color, we put out 5 colors so Skylar knows she's expected to do 5 colors, and that's what we do," said Lena. "It took several weeks to make the paintings we did for Christmas because we painted for 5 minutes at a time." Once Skylar's paintings were done, she loved them. Skylar then got to choose where to put them on the walls at home, and her family was very pleased that it was Skyler's work. "The parents and families love it most when the child actually creates the art," said Lena.
"We have learned together that we can do things we never thought possible if we just try," said Lena.
Click here to see more Valentine's Day activities you can do with your child.