This June, Camp Woodchuck is returning to Kids' Cove! After three years of providing an amazing In-home Summer Experience, we are ready to bring the excitement of Camp Woodchuck back to Kids' Cove.
What is Camp Woodchuck? Camp Woodchuck is Rainbows' Summer Camp for youth with special needs who might not otherwise get to have a summer camp experience. Filled with crafts, outdoor water activities, field trips, Fashion and Talent Shows, an Art Exhibition and best of all, making life-long friends and memories, Camp Woodchuck provides a summer camp experience to youth who might not otherwise get to have one.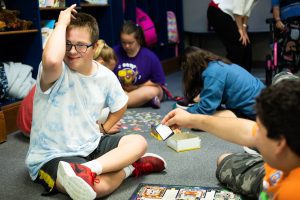 What is needed to set up a Camp experience like this? Why, FUN THINGS, of course! Games (board games, bubbles, water squirters-pump style, etc.), Craft and Art Supplies (popsicle sticks, construction paper, canvases, washable markers and crayons, etc.), Gift Cards (Hobby Lobby, Michaels, Walmart, Dillons, etc.), Passes or Gift Certificates for local activities (museums, attractions, etc.), and Snacks (individual snacks and drinks, cookies, goldfish crackers, fruit snacks). You can see the entire list here.
Who benefits? Miya is on the Autism Spectrum Disorder scale, as well as having developmental and behavioral disabilities. "Miya interacts more socially since going to Camp Woodchuck," said Laqueta, Miya's mother. "Miya is quiet and shy until she gets to know you then she comes out of her shell. She may not get your joke, but she loves to laugh."
"Several years ago, Amiya was VERY SHY and would hardly talk," said Tiffany Graf, Family Support Services Coordinator and Camp Director. "Now she has gained so much confidence. She loves to dress up for the Camp Fashion Show and is always willing to help others. I love her smile that she still tries to hide most of the time."
How can you help ensure these youth with special needs have their best summer ever? This year proceeds from the Blarney Breakfast benefit Rainbows' Family Support Services programs and Camp Woodchuck. Come join us for all the fun from 6-9:30 a.m. March 17 at Old Chicago East. Enjoy a wonderful breakfast, Irish dancers, celebrity coffee pourers and more while supporting Rainbows' children. Get your tickets here.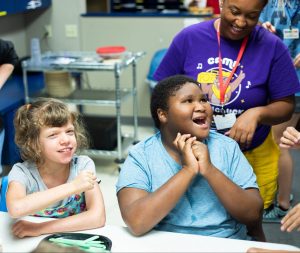 Can't make it to the Breakfast? You can still help! As part of the Blarney Breakfast, this year Rainbows is running a Supply Drive for Camp Woodchuck from February 17 to March 17. Learn about the Supply Drive here. Blarney Breakfast will feature a drop-off location and you can also drop off your donations at Rainbows' Kids'  Zone at the Delano Paddy Day Parade from 10 a.m.-3 p.m. March 11. Look for other locations near you here.