Halloween at Rainbows is not only fun, it's educational! Rainbows' children used their senses to explain what pumpkin guts felt, smelled, looked, and tasted like. After pulling out the pumpkin seeds and letting them dry, the seeds were seasoned with butter, vanilla, cinnamon, and sugar. Chef Ryan then cooked the seeds and the children had them for a snack.
Candy corn is not just a treat. It's also great for counting and number recognition. Students identified written numbers on a paper and then placed the correct amount of candy corn next to the number. Once they were finished, they got to eat their Math!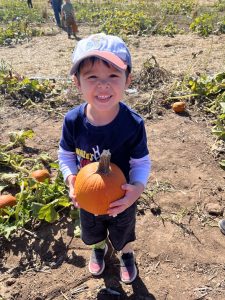 At the pumpkin patch, Rainbows' children learned about the lifecycle of the pumpkin, and then shared what they had learned with other people at the patch. They also saw pig races and fed horses and baby chicks.
The week ended with Rainbows' Annual Halloween Parade! Costumed children, parents and staff paraded the halls of Kids' Point, trick-or-treating in classrooms and offices. The children practiced saying Trick or Treat, taking only one piece of candy, and saying Thank You. They also practiced patience as they waited for the end of the parade to dive into their treat bags!