At Rainbows, we know the value of volunteers and appreciate the impact they have on the lives of our children with special needs. On this second day of Volunteer Appreciation Week, we asked Tasha McKeever, Events Coordinator for Wichita SCHEELS, to share why volunteering is meaningful for this new company in Wichita.
The Wichita SCHEELS store may not be open yet, but that does not stop our associates from giving and serving. SCHEELS cares about community, and it is deeply rooted in our culture. We donate our time, energy, and resources to build up and support members and organizations. Each SCHEELS store is afforded the unique opportunity to tailor their giving and volunteer efforts to their community, as needs vary among markets.
As our store is preparing to open, we've focused our efforts on volunteering. Most nonprofits have limited resources and hours to complete what they need to accomplish. Getting the opportunity to help them reach their goals for their outreach is our mission. Our Wichita store's efforts began in January of 2023, and to date, we've invested 2,223 hours into the local community.
Why do SCHEELS associates volunteer?
SCHEELS is proud to be an employee-owned company. We take pride in our work and the communities we live in. A strong community benefits us all, so we make giving our time and resources a priority. It is so important that, "We give back to our community," is one of our ten culture points as SCHEELS associates. Not only does it lift our community and its members up, it brings us closer together as a team. There's no better feeling than giving a high five or a fist bump after a volunteer job well done.
The first place we volunteered in Wichita?
Rainbows United! This organization has impacted the lives of many of our Wichita associates, and countless other children and families in the local area. We reached out in January as we were looking for places to serve, and Rainbows invited us in with open arms!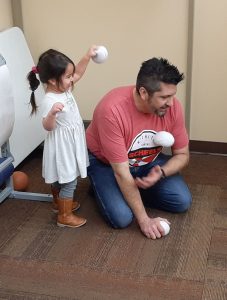 My fellow associates and I weren't sure what to expect, as this was our first volunteer opportunity as the SCHEELS Wichita team. We were given a tour of the Rainbows United campus, and then jumped right in to lend a hand in the classrooms. Our college shop manager, and I were with the two-year-olds. The children loved having visitors, and the kiddos immediately put us to work. We put puzzles together and built a 'bus' so they could 'drive' around town and pick up different food items from local restaurants. Although the 'cheeseburger' they brought us didn't fill our tummies, these imaginative and funny kids filled our hearts! We finished out our time in the classrooms doing a variety of singing and dancing activities. I think we were successful at "Going on a Bear Hunt" as we loved running and giggling as we pretended the bear was chasing us back home.
We concluded our first visit by saying goodbye to our new friends, and then finishing a few other tasks on the list. I organized the book library. My other team members disinfected the conference room and cleaned the windows in the lobby. Easy, but also time-consuming tasks that move down the priority list when KIDS are at the very top!
After our first Rainbows United experience, we were hooked! We were able to send another group of SCHEELS associates out a few weeks later to wrap boxes for a supply drive, organize the children's library (again), and count and sort an inventory closet in addition to helping out in the classrooms!
Wichita SCHEELS was also able to jump in and volunteer at two St. Patrick's Day events with Rainbows United. First up was the very first St. Paddy's Day Parade Kids' Zone in Delano! Even with a day full of almost every kind of weather that Kansas could throw at us, nothing could stop the FUN and laughter that filled the Kids' Zone! Yard games were played, prizes were won, crafts were made, faces were painted, our favorite superheroes and Paw Patrol pups were selfied, AND there were real-life mermaids. What could be more exciting? All of that was wildly entertaining, but being able to see the 2-year-old triplets that I had met a few months prior at Rainbows, that was the highlight of my day!
The famous Blarney Breakfast was our second St. Patrick's Day event we were able to offer our assistance. I had personally attended this event in the past and knew our crew would love being a part of it. Our SCHEELS team was part of the volunteer welcoming crew outside of Old Chicago. We got to be the smiling faces when customers came through the drive-thru, and got to shout, "Happy St. Patrick's Day!" to everyone else who lined up to grab a spot inside. It was chilly, but we were able to pass out warm cups of coffee and cheery grins! I've been to quite a few fundraisers, but Blarney Breakfast has a vibe all its own. From the crazy outfits, the bagpipes, the gold & green, and everything in between – – – nothing's quite like it! Very much looking forward to being a part of these events in the future if Rainbows allows us to tag along!
What happens once the store opens?
Our store opens July 1st, but our work is not done within the community. We will continue to give and volunteer. We're so excited to have made these connections and look forward to building more relationships with others here in Wichita. SCHEELS is proud to be a part of this community, and we are so appreciative of the warm welcome we have received from all the local area nonprofits, especially Rainbows United!
By Tasha McKeever, Events Coordinator, Wichita SCHEELS